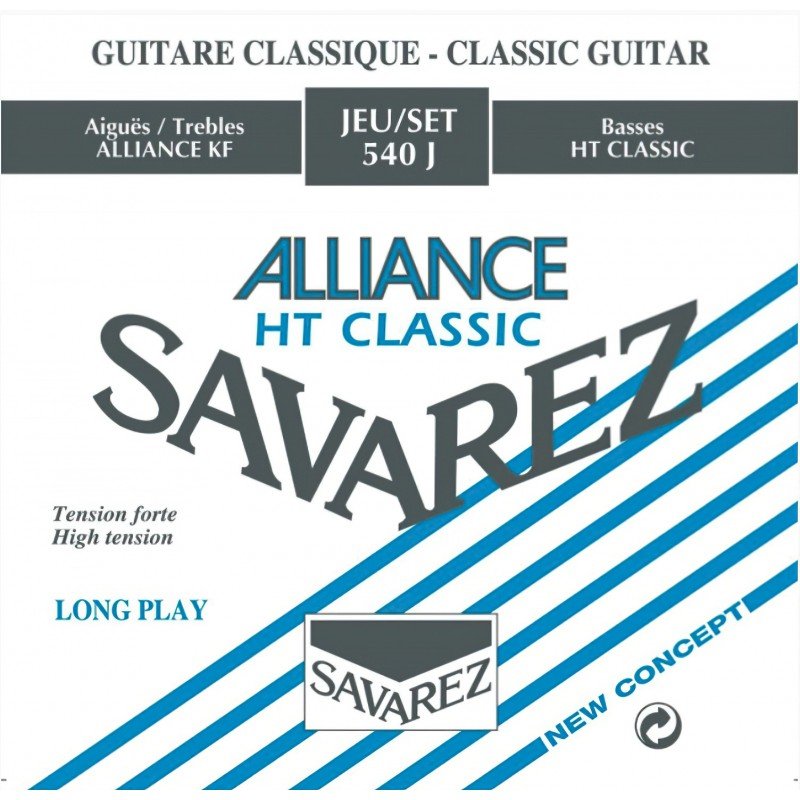  
String Set Savarez HT Alliance 540J
Set of strings for classical/flamenco guitar Savarez HT
Alliance 540J. Medium tension. The best seller of Savarez, for
for a reason...
The string sets of the HT Alliance series are composed of KF Alliance Composite (carbon) and HT Classic strings wound on a Stabilon nylon multifilament.
HT Classic strings wound on a Stabilon nylon multifilament. These strings are the result of extensive
of extensive research and the application of state-of-the-art techniques with high-tech materials, offering a perfect balance.
perfect balance. The KF premium strings are manufactured with composite materials for which Savarez has the worldwide exclusivity.
world exclusivity.
KF Alliance composite fibers have the same density and elongation as the "gut". The density
is higher than that of polyamide ropes and they are thinner than nylon ropes and can withstand tensions of up to 35 kg.
tensions up to 35 kg. The very low internal friction between the molecules increases their durability, giving them the following acoustic characteristics
acoustic characteristics: clarity and purity of sound, richness of timbre, great sensitivity, power, projection and long sound duration,
projection and a long sound duration.
The snares are silver wire wound, with advanced design and technology. In comparison, they have
more rigidity and allow for a more powerful sound. They provide excellent resistance under the fingers of the right hand, but are easy to play with
but are easy to play with speed with the fingers of the left hand. As acoustic
characteristics are their rich and bright timbre, great projection, precise and fast response and their volume and power.
volume and power.
No customer reviews for the moment.
16 other products in the same category:
Customers who bought this product also bought: