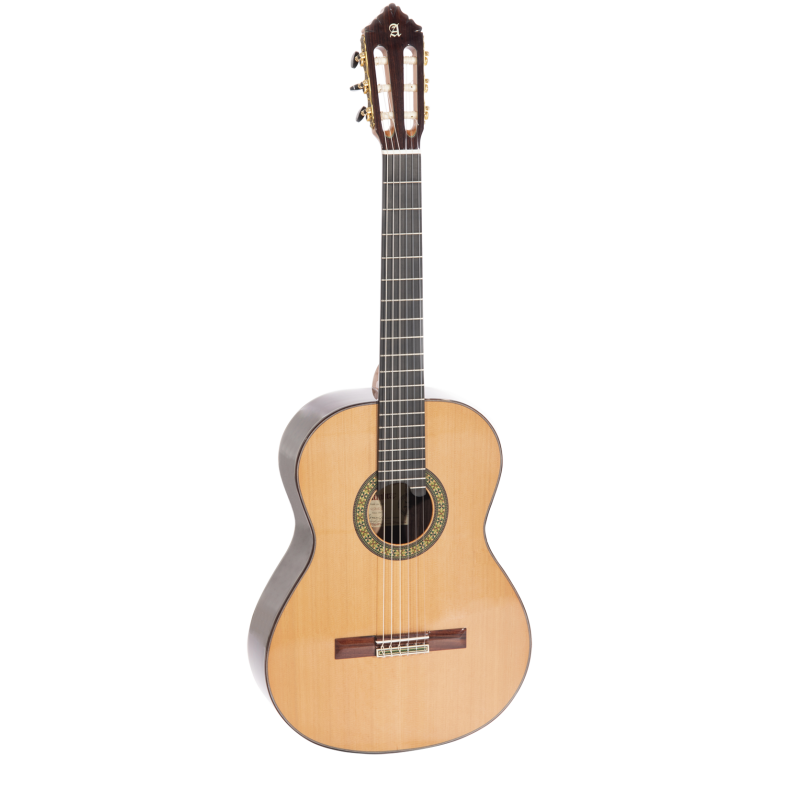  
Alhambra 11P Concierto
A powerful, but at the same time delicate sound, which provides this concert guitar with high-level performance attributes.
The 11 P model is the top of the range before moving on to the series called "signature models", the most select luthier's guitars.

The finishes of this model denote important craftsmanship and a very refined image. The additional green line in the profiles and the construction typology are worth mentioning.

In this respect, the piece called heel, from the traditional construction system called "Spanish heel", in the 11 P model is composed by 5 pieces, while in the rest of models it is only composed by one piece.

It can also be seen that the fingerboard of the 11 P model is longer. The fingerboard is extended through the mouth of the soundboard to insert an additional fret. An element that is requested by qualified guitarists and is necessary to play some pieces of music.

In addition, this instrument is built with bone in the saddle and nut, a material that has been used traditionally and whose vibration capabilities are exceptional. These characteristics, together with a careful selection of woods and a handcrafted elaboration, produce a strong, full-bodied and concert level sound.

The sound of the 11 P model is powerful, but at the same time it can produce the most delicate and melodious notes with a sweet and refined sound.

In short, a guitar that responds well to the demands of the guitarist and when held in his hands it feels robust, transmits energy and is enjoyed to play.

These are some of the characteristics that give this concert guitar its high level of performance attributes.
No customer reviews for the moment.
16 other products in the same category: