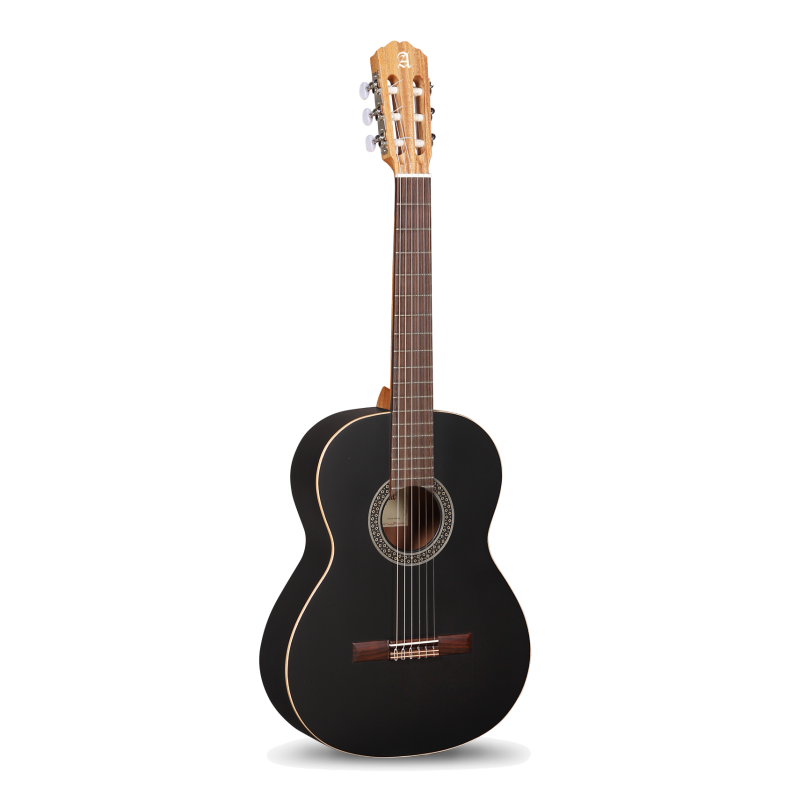  
Alhambra 1C Black Satin Estudio
A study instrument with a surprising finish. A matte black guitar, elegant and with a modern aesthetic.
This guitar surprises with its characteristic matte black color, a very careful design and made with quality materials. It is worth mentioning that the matt black finish, contrary to what one might think, does not leave any handprints.

Handmade with selected woods, the model 1 C Black Satin is built with a solid cedar top and Sapelli sides and back, woods that allow a sound with volume and suitable for playing different styles.

The finish is cared for to offer an elegant instrument. Elements such as the nickel-plated tuning pegs, the rosewood of the fingerboard, the rim on the lid and its characteristic matt black colour, define a beautiful and stylish guitar.

The 1 C Black Satin model is a very comfortable instrument, just like the 1 C model, the action of the strings is designed to achieve an instrument very suitable for the beginning in the study of the guitar art.

The sound performance and comfort, configure an instrument suitable for the interpretation of different musical styles. That is why we have chosen to offer the possibility of a black guitar, so that this instrument moves away from the traditional image of a classical guitar.

Although the 1 C Black Satin model is an entry level instrument, with a good quality-price ratio, we find a guitar with volume and a high capacity to define the sound.

For the elaboration of the bridges, both for the saddle and for the nut, melamine has been used, a synthetic material highly transmitter of the sound and that contributes to obtain a round and defined sound.

In short, the 1 C Black Satin model is an elegant guitar, with very good features, which together with its aesthetics, make it a very versatile instrument in its use.
No customer reviews for the moment.
16 other products in the same category: