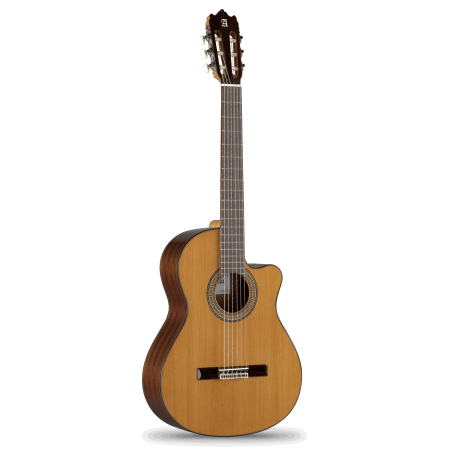  
Alhambra 3C CW Estudio
A studio line cutaway guitar with a wonderful tone that conveys robustness and versatility.
In the cutaway version, the 3C CW model is built to improve access to the lower part of the fretboard and has a capo width of 5 cm, slightly narrower than the classic models, a way of favouring changes in chord positions, as well as facilitating the interpretation by plectrum.

A guitar with a rich and warm sound, a surprising volume and a very careful finish. An excellent purchase within a price range suitable for a studio guitar, which also incorporates the Fishman E1 electrification including tuner.

The Alhambra model 3C CW is a beautiful guitar. Handmade and taking care of all the details, a cutaway model from the studio line, but when you hold it in your hands it transmits robustness, versatility and a wonderful tone.

With a smooth sound and a very good quality finish, the 3C CW model is a great choice for working on technique, a safe choice for starting out in the guitar studio.

The bridges for both saddle and nut are made of melamine, a synthetic material that is highly sound absorbing and contributes to a rounded and defined sound.

The 3 C CW model of Alhambra guitars is also available in a narrow body (CT) cutaway version, where the depth of the guitar is reduced (narrower on the sides), allowing greater accessibility when played vertically and by means of a strap system.

In summary, the 3 C CW model is an excellent choice, a studio and high quality cutaway guitar.
No customer reviews for the moment.
16 other products in the same category: