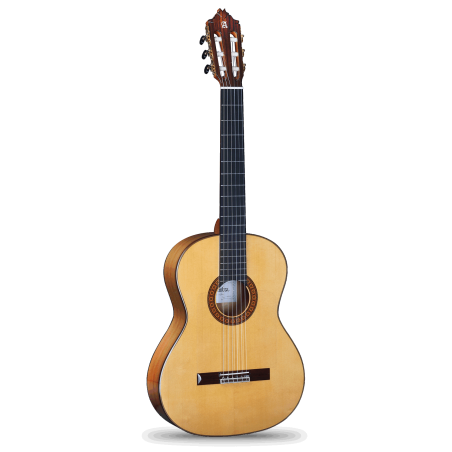  
Alhambra 8Fc Concierto
The Alhambra 8 Fc is a white flamenco guitar with selected woods and a high quality sound
The model 8 Fc is a wonderful guitar with a beautiful and authentic flamenco sound. It is also totally balanced, achieving a constant tone throughout the fretboard and a good relationship between bass and treble.

An instrument with a high quality sound; powerful, brilliant, with a great character and with a projection that fascinates.

The model 8 Fc is an instrument of the line of conservatory that when it is made to sound, the sensation is that of having an instrument of professional level, with capacities superb to play in public and to enjoy.

A white flamenco guitar with very high performance that is sure to attract attention when it is in your hands.

The new flamenco guitar 8 Fc is a step forward compared to the 7 Fc model, with a better selection of woods, new marquetry and a new design of the neck.

In addition to the selection of solid cypress for the sides and back, and solid German spruce for the top, this guitar is made with ebony on the fingerboard, gold-plated luxury tuning pegs and ebony reinforcement on the cedar neck.

The ebony reinforcement is located inside the neck, so that it cannot be seen with the naked eye on the outside of the handle.

The ebony reinforcement is located exactly under the fretboard and the saddle has to be removed to see it.

In order to adapt the instrument to the tastes of each guitarist, in the 8 Fc model the action of the strings can be varied by changing the "bone" of the bridge, the saddle.

In the model 8 Fc an extra saddle is added with different height, with the intention of achieving a low or slightly higher action, depending on the choice of the guitarist, although always being totally adapted to the characteristics of the guitar.

A guitar designed to generate the lisp just when it is required and to allow the greatest comfort in the performance.

Both the nut and the saddle are made of bone, the material historically used to transmit the sound to the lid and to achieve the most natural sound.
No customer reviews for the moment.
16 other products in the same category: