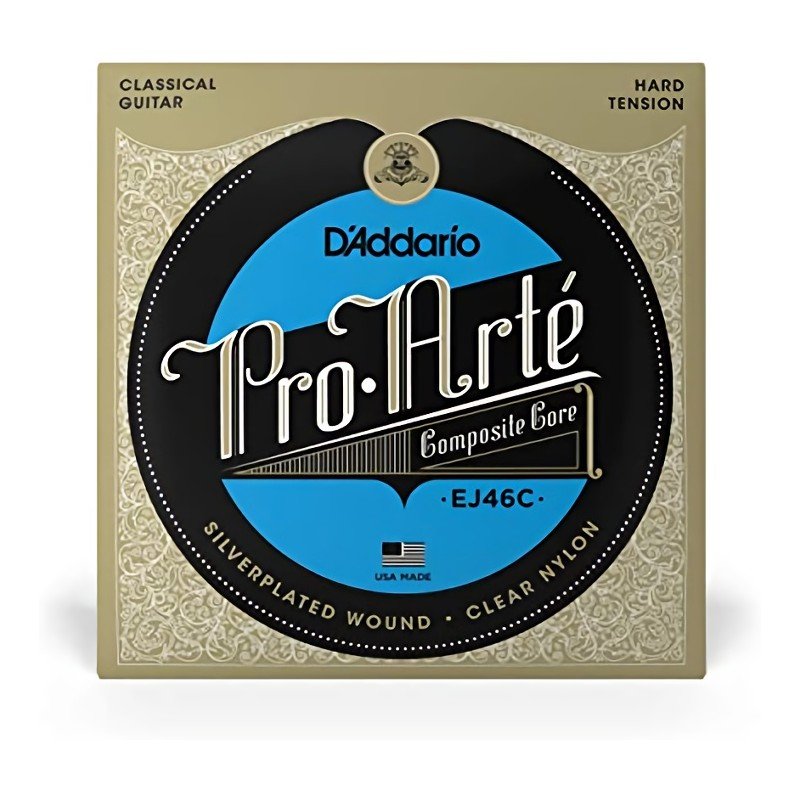  
String Set D'addario Classical EJ46C
Classical and flamenco guitar strings D'Addario Pro Arte Composites EJ45C. Hard tension.

Classical or flamenco guitar strings D'addario Pro Arté EJ45C. D'Addario's Pro Arté Composites strings are made with a multi-filament exclusive string core that increases the life of the strings and gives them a better projection and sound quality compared to the normal Pro Arté.
This set incorporates 2 3rd strings, one in normal nylon and another in nylon-composite, the latter is manufactured with a special composite monofilament that gives the string greater projection and timbre with respect to traditional nylon. With this string the transition from bass to treble is more natural, correcting the problem of the third deafness. Brown nylon composite.

All Pro Arté strings are sorted by a very sophisticated computer controlled laser machine that performs diameter/tension measurements and quality control, ensuring great sound and precise treble in every play.
| | | | | |
| --- | --- | --- | --- | --- |
|  String |  Note |  Diameter (mm)  |  Tension (Kg)  |  Material  |
| 1 | MI (E) | 0,72 | 7,63 | Clear Nylon |
| 2 | SI (B) | 0,83 | 5,63 | Clear Nylon |
| 3 |  SOL (G)  | 1,04 | 5,58 | Clear Nylon |
| 3 | SOL (G) | 0,94 | 5,88 |  Nylon composite monofilament |
| 4 | RE (D) | 0,74 | 6,93 |  Silvery lace with multi-filament composite core |
| 5 | LA (A) | 0,91 | 7,70 |  Silvery lace with multi-filament composite core |
| 6 | MI (E) | 1,17 | 7,42 |  Silvery lace with multi-filament composite core |