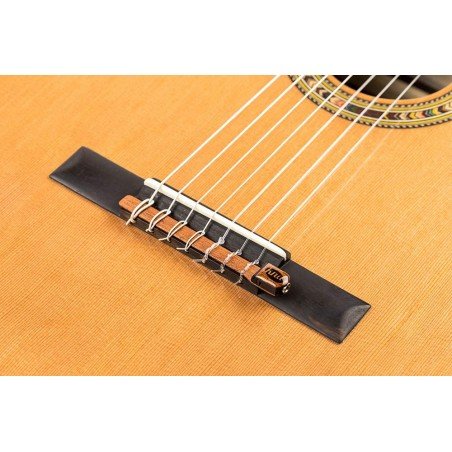  
KNA NG-7s
NG-7S is the perfect solution for 6 or 7-string classical guitar players who want to capture the sound of their extended range instrument.


Live or in the studio, it's a classical guitar pickup that brings true nylon-string sound and does it without an installation that requires modification.
Unlike other guitar pickups, NG-7s installs safely and securely on the 6 or 7-string classical or flamenco guitar tie block utilizing the tension of the strings.
The piezo element is encased in elegant and stylish mahogany. The lightweight assembly offers maximum tonal sensitivity.
NG-7s has a passive design that reproduces the natural sound of the instrument with no need for a battery.
Specifications  

Weight 5g / 0.176oz
Overall length 107mm / 4.21"
Height / pin housing 9mm / 0.35"
Active element dimensions
Length 90mm / 3.54"     
Width 9.6mm / 0.38"

Thickness

2mm ± 0.05mm
0.079" ± 0.002"

Wood Mahogany
Maximum impedance 500 Ω

Cables
Jumper cable with safety clip 1meter / 3'.
Amplifier cable 3meter / 9'.
No customer reviews for the moment.
16 other products in the same category: