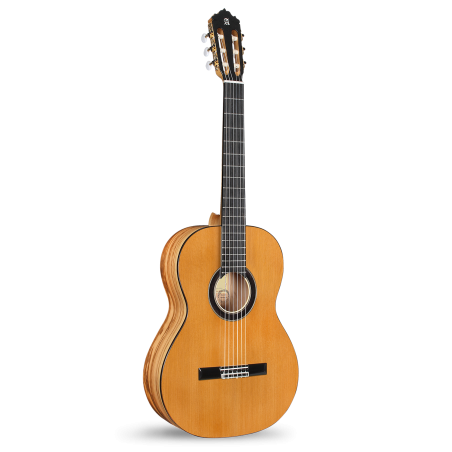  
Alhambra Classical Exotic Woods Custom
Guitarra Alhambra modelo Classical Exotic Woods
Powerful and very Spanish sound
The Exotic Woods Custom Collection (EW) series is an example of the investment in research and development made by Alhambra Guitars. A line of 100% customizable guitars in which you can choose different woods for the top and sides and back, as well as color of the pegs or finish.

White Ebony or Olive wood, which do not require a CITES certificate, together with Indian Rosewood or Cocobolo are the woods that can be selected for the sides and back.

All of them are woods that make beautiful guitars and at the same time, due to the mesh of some varieties, offer unique and unrepeatable guitars.

For the top you can choose cedar or fir and both the fingerboard and the profiles are made of ebony.

Moreover, you can select the colour of the tuning pegs between white or black. An interesting option to combine them with the colour of the woods used in the sides and back.

As for the finish on the Exotic Woods Custom Collection (EW) series, you can choose between Open Pore finish, which offers a matte colour, or the traditional gloss finish.

The Classical Exotic Woods Collection offers a powerful, nuanced sound with a very Spanish character.

A sound colour that varies depending on the wood selected, both in the sides and back, and in the top, but which maintains its personality due to the exquisite design in its construction.
No customer reviews for the moment.
16 other products in the same category: