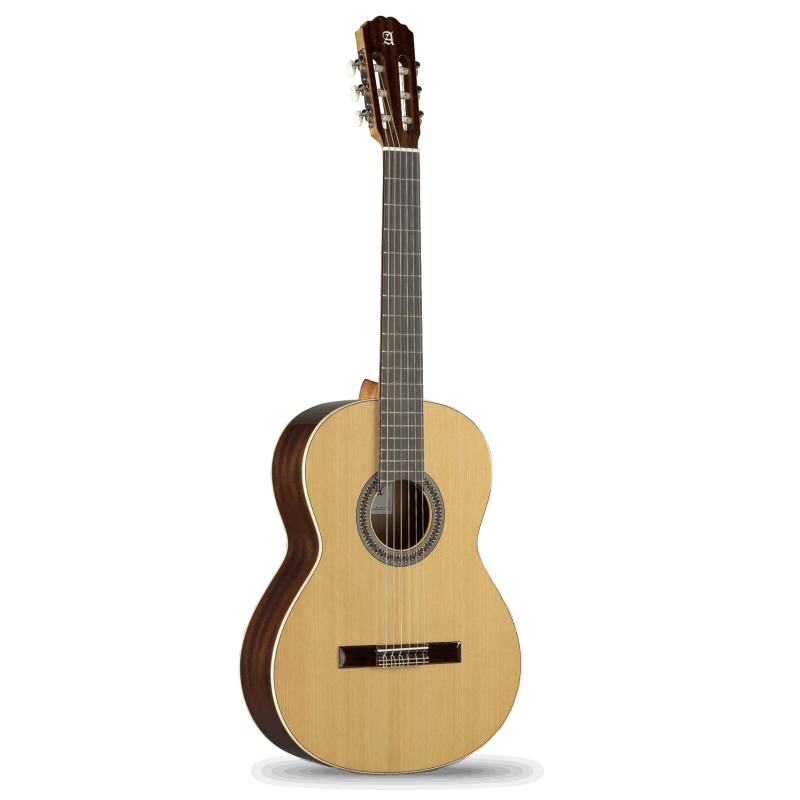  
Alhambra 2C Estudio
A studio instrument with power, sound quality and wide range of tones, always with a solid top is available in Cedar or Spruce
When you play the Alhambra Guitars 2 C model for the first time, you enjoy a guitar with great volume and clarity. An instrument that provides a wide range of tones to create different kinds of timbre and colour in the sound.

This instrument, being suitable for the beginning in the studio, offers many possibilities of interpretation, being able to be used for different styles.

A beautiful guitar, stylish and carefully finished. Like the 1C model, this studio instrument is built with Sapelli for sides and back, Rosewood on the fingerboard and nickel-plated pegs.

In this case, the finish of the 2 C model has a double profile, adding one in the back, and with the possibility of choosing between Cedar or Spruce for the top.

A lid always solid and that contributes directly to the great sound of this guitar.

The choice between Cedar or Spruce for the top is important and depends on the taste of the player. There are differences in the color of the sound of the guitar according to the type of wood used. Besides, the aesthetics also changes in a radical way, being the color of Spruce much lighter than that of Cedar.

Also the 2 C model is made with melamine in the saddle and the nut. A synthetic material that is very good transmitter of the sound and that provides to this instrument a round sound color, maintaining the power and the diversity of shades.

The 2 C model, like the 1 C model, is a studio instrument but a step further in performance.

A very comfortable and high quality guitar. A safe choice for anyone starting out in the world of the art of the six-stringed.
No customer reviews for the moment.
16 other products in the same category: