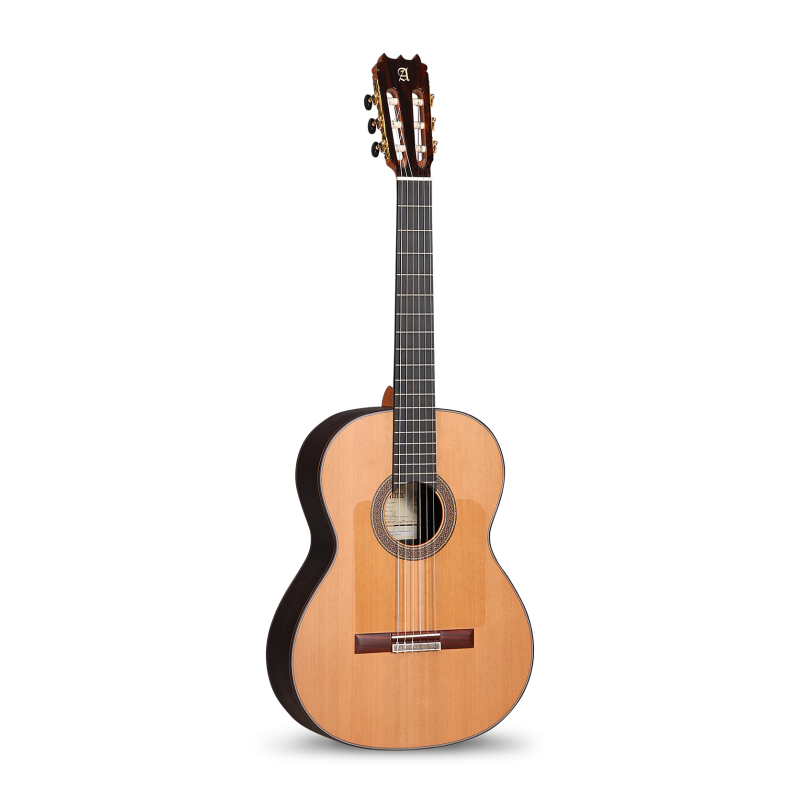  
Alhambra 10Fc Piñana Concierto
A black flamingo, completely solid and with a cedar top. A very beautiful and high quality guitar.
This model has been developed in collaboration with the flamenco guitarist Carlos Piñana, where technical specifications have been introduced that define an instrument with the qualities required by today's flamenco guitarists, achieving a very beautiful and high quality flamenco guitar.

As a differentiating element of the 10 Fp Piñana, the design of the shovel stands out. A horn-shaped molded top sirueta, with a gloss finish, which easily identifies this instrument and gives it a lot of personality.

The 10 Fp Piñana model is a so-called black guitar, marked by its main feature, the use of solid Indian Rosewood to make the sides and back. Although it is worth mentioning the choice of solid Cedar for the top.

This is a rare characteristic in flamenco guitars, but after a process of development, by means of a special configuration of harmonic bars, a rounder sound is achieved, one could say that it is more delicate, although always without losing the flamenco character.

Furthermore, in the case of the 10 Fp Piñana, the finish is matt, a finish that requires less varnish and through which a more powerful sound is achieved.

A guitar with a very flamenco sound but with a special warmth, a sound suitable for playing modern flamenco music, but without losing the tradition of this art form.

The 10 Fp Piñana model is built with deluxe gold pegs and a very comfortable neck with ebony reinforcement.

An instrument that due to its aesthetic characteristics brings a lot of elegance and personality. These qualities are enhanced when they are combined with the sound of this interesting guitar.
No customer reviews for the moment.
16 other products in the same category: