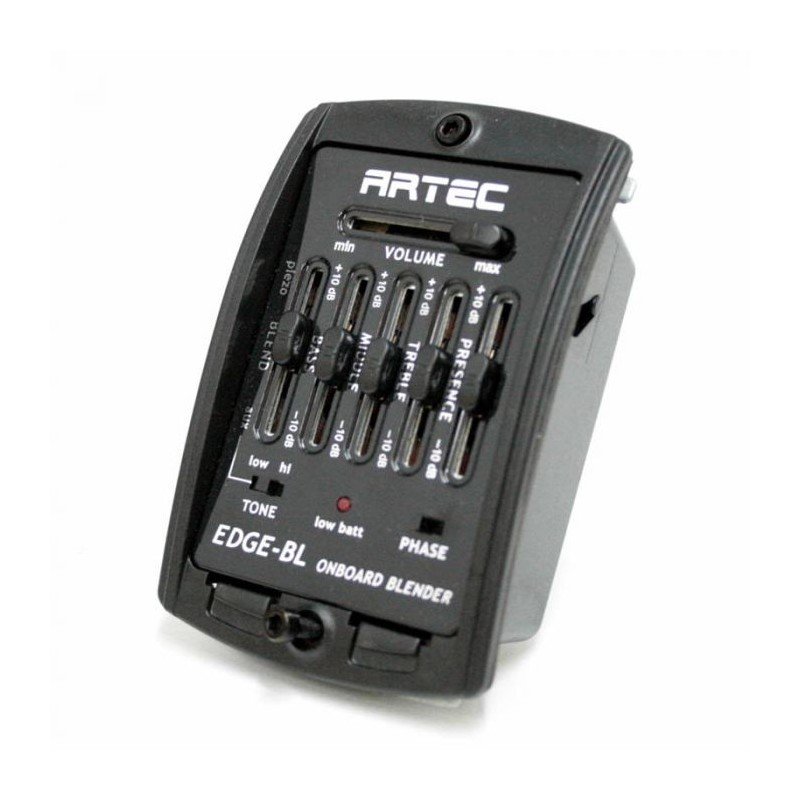  
4 Band EQ Artec EDGE-BL
EDGE series have the special concept beyond common design of existing preamps for acoustic guitar. Without mounting screws, EDGE series use Double Inner Clamp system which enables users to install with ease. This mechanism keeps solid wood side of guitar body from cracking caused by installation with screws.
FLIP-HOOD Design of panel can save the room for batery case, so it make clean and concise face of panel. All EDGE EQs are applied to EMI process for basic option to reduce hum ideally, and equipped with PHASE switch for anti-feedback. EDGE-BL-MC has Blender function and 4 band EQ. Through the AUX-INPUT jack of the bottom, Condenser Microphone can be connected. Also the sound from another source can be plugged in.
Includes:
Connector type output jack
Hook cable and screws
Condenser Microphone
NOT INCLUDED: piezo pickup, battery.

Specifications:
LED low battery indicator
Selector investment phase
Power supply: 9V alkaline battery
Bass: ± 10 dB
Middle: ± 10 dB
Treble: ± 10 dB
Presence: ± 10 dB
Piezo pickup Input Jack: 2.5 mm mono jack
AUX-INPUT: 3.5 mm mono jack
Jack unbalanced output: 1/4 "phone jack
Flip-Hood type Battery Room
Master volume
Compatibility with guitars or low minimum width of 60 mm box
Location in the upper side of the body (see diagram)
Approximate Dimensions: 90 x 56 x 42 mm